Cloud: it's a big deal. And it's here to stay.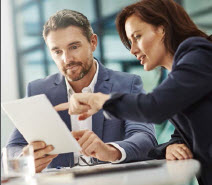 According to Gartner, Inc., "more than $1 trillion in IT spending will be directly or indirectly affected by the shift to cloud during the next five years. This will make cloud computing one of the most disruptive forces of IT spending since the early days of the digital age." (Source: https://www.gartner.com/newsroom/id/3384720)
Growing businesses are discovering how subscription-based services such as SaaS (software as a service) level the competitive playing field by unlocking access to advanced technologies once too complex and expensive except for only the largest organizations.
Today, mission-critical applications like CRM, ERP, HCM, project management and document management are readily available via the cloud.
By shifting their IT infrastructure to cloud-based solutions, organizations can now transform their processes to what their business really needs.
The result is not just efficiency – it's daily productivity, employee efficiency, and operational agility. It's a whole new pace of business.